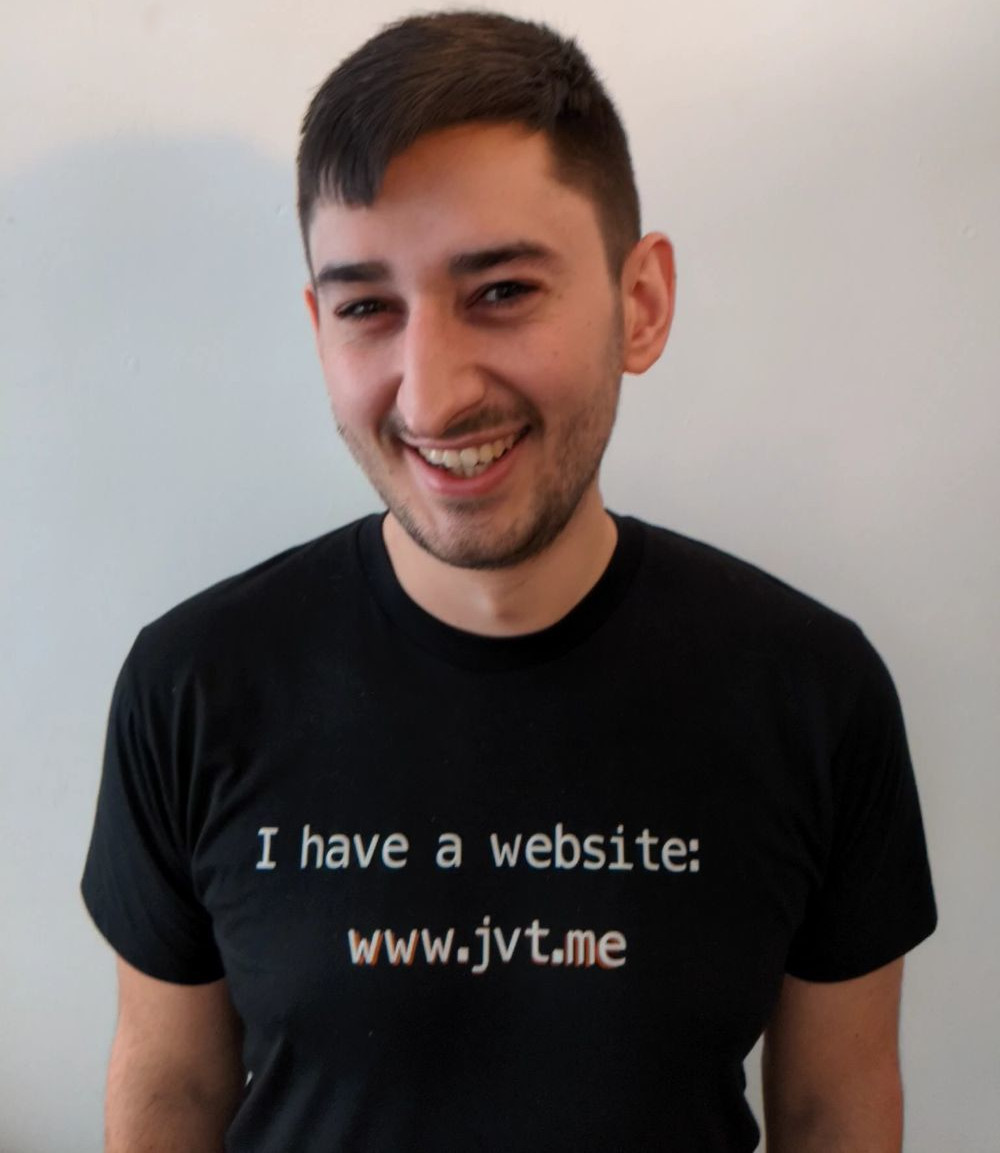 Hello, I'm
Jamie Tanna
You may be interested in reading my README, which provides a bit more information about me at this time.
This site is inspired by Manual of Me, and aims to be a guide for colleagues in how to best work with me.
If I came with a warning label, it would say ...
This conversation may be recorded for blogging purposes
My Working Hours
| | |
| --- | --- |
| Monday | - |
| Tuesday | - |
| Wednesday | - |
| Thursday | - |
| Friday | - |
Structure of my day
I prefer having a standup between 0915-1000, so I have a bit of time before it to check messages and see whether things have progressed overnight, as well as checking that there hasn't been anything going wrong in production that needs looking into
I prefer to have lunch at a fixed time each day, so I can coordinate with my partner, and usually have 1200-1300, but like the ability to be flexible, so you can check my calendar!
I work best when ...
I can get my headphones on, mute notifications and get down to the task at hand
I can build for the "right solution", with the right level of test coverage and a good architecture. However, I do realise the value in pragmatism, and am happy to cut corners where necessary, as part of a healthy technical debt conversation
I can break down work into the why this is important to the business, as well as the what that is needed to be delivered
I have a supportive team
My preferred channels of communication are ...
In priority order:
Slack / instant messaging
Give me context for what you would like - see nohello.net for a bit more info - if you fancy just a general catchup, say so!
If messages are urgent/time sensitive, it'd be good to know!
Async is ideal for me, although I generally focus on "inbox zero", at least for Slack
Video/Voice Chat
Written communication is awkward and prone to error and misinterpretation - if we're finding we're tripping over our words, let's move to a video/audio call to discuss things
If we're already chatting synchronously, and are both able to, let's chat "in person", as it may be quicker
Email
Need a paper trail?
Need to be able to add folks - who aren't necessarily available on i.e. Slack - throughout the conversation?
Longer form discussion?
I add value to a team by...
Focussing on individual and wider self-improvement, based on learnings from others inside the company, as well as looking at improvements across the Software Engineering across the industry
Focussing on improvements to team ways of working, to deliver better as a team, whether they are "how do we better refine our work?" through to "how can we make this code review comment enforced automagically?"
Prioritising unblocking others with code review or working through problems, with the focus on overall, rather than individual, delivery
A heavy focus on improving the collaborative, inclusive and blameless culture
Being a cheerleader for the awesome stuff we're doing, being willing to raise individuals, and the team as a whole, up to stakeholders as doing excellent work
Being driven to support production services, ensuring that downtime is minimised, and that we perform blame-free learning reviews after the fact to learn what went wrong, and how we can prevent it in the future
Feedback is best given ...
Written, so I can refer back to it, as well as share it with my manager and use it for performance reviews
If nuance of the point is required, or if we're discussing something sensitive, such as an interpersonal concern, let's discuss it in-person, and then (most likely) share the feedback in a written form so I have a record
With my manager CC'd, if possible, so they can hear about what good things I'm doing, or where I can improve
Honestly. I know I have areas to improve, and I'd like to be aware of them so I can improve
In small quantities, regularly - I'd love to get microfeedback i.e. every few weeks. It's never really worked across the teams I've been part of, but it'd be great to get regular feedback to see trends, check I'm improving, as well as shouting about good things I'm doing!
My personality type is ...
Virtuosos love to explore with their hands and their eyes, touching and examining the world around them with cool rationalism and spirited curiosity. People with this personality type are natural Makers, moving from project to project, building the useful and the superfluous for the fun of it, and learning from their environment as they go.
What motivates me to come into work each day is ...
Being invested in the mission for what we as a team, and/or we as a company, are trying to deliver
Having interesting problems to solve
Being able to deliver value to internal/external customers
Being able to help grow myself and others, to improve ourselves technically and otherwise
But I'd also say that giving me opportunities to find new things to blog about, as it's a measure that I'm doing new things and discovering new challenges
Some other things you should know about me are ...
I find that I prefer being busy to having completely downed tools, but I'm working through it and ensuring that I enjoy the gaps in the workload!
I'm prone to working outside my hours, especially when there's an interesting problem - please call me out on it, as I'm still trying to improve this!
I'm a very big fan of automation and improvement, opting to deep dive into tools like git, understanding the framework we're using works, and removing as many keystrokes as possible
Tea or coffee?
Tea 🍵
The perfect cup of tea is:
fill the mug up on the boil
stir immediately a couple of times
leave it to brew for three minutes
stir a couple of times
strain teabag
add milk and no sugar
enjoy